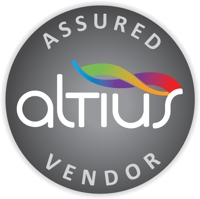 Compliance Surveys has proved its excellence in business performance after passing a rigorous independent assessment and accreditation process.
 
The company can now forge links with blue chip businesses like Selfridges, Morrison's Airbus, SGP Property and Facilities Management, General Healthcare Group, Punch Taverns, Arcadia Group, Wolseley and Superdrug, after qualifying as an Altius Assured Vendor.
 
Gary Plant, Managing Director of award winning Altius Vendor Assessment (www.altiusva.com), said:  "Compliance Surveys Ltd has demonstrated to our expert assessors that it's a top supplier. This provides complete assurance that it has all the necessary health and safety systems, insurance coverage, and other requirements in place to be a competent supplier to large corporate customers. We are delighted to welcome the team as one of our assured contractors."
 
Adam Grundy BSc MRICS, Managing Director, said: "Achieving this recognised standard proves our high level of competency. It will enable us to compete nationally for major contracts and boost our reputation as a quality supplier. The major corporate businesses who are partnered with Altius can have confidence in our abilities, and it gives us a golden opportunity to increase our sales."
 
Compliance Surveys is an Altius Assured Vendor of Asbestos Surveys, Water Risk Assessment Surveys, Commercial Energy Performance Certificates and Fire Risk Assessments Surveys. 
 
Altius Vendor Assessment helps companies to assess, improve, monitor and assure their supply base – to reduce their risk and liability and increase performance.  The robust online supplier accreditation and management system takes a thorough evidence-based approach to checking the competences and financial health of suppliers (vendors) and ultimately gives peace of mind to the end user.